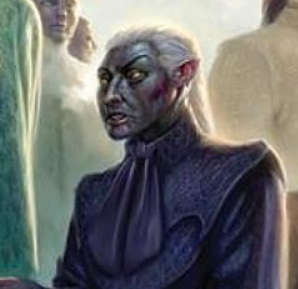 Ilisidi of Malguri is the grandmother of Tabini-aiji and great-grandmother of Cajeiri. She was the first ateva from the East to attain high influence in the aishidi'tat when she married Tabini's grandfather, the aiji at that time. Their son, Valasi, also became aiji after the death of his father, though Ilisidi argued to become aiji herself at that time. When Valasi died, she argued again to be named aiji, but the hasdrawad chose Tabini instead.
Ilisidi is known as a canny politician, ecological conservative, and a powerful influence in the East due to the geographical dominance of Malguri over the single usable pass through the mountains between the eastern and western sides of the main continent. Though often considered Tabini's rival, she has been a strong supporter of the stability of the aishidi'tat, working constantly behind the scenes to arrange alliances and influences to resolve the lingering disputes that could tear the association apart.
The head of Ilisidi's personal bodyguard is Cenedi. It is stated in Intruder that his second in command is Nawari.
The Malguri colors are red and gold. Ilisidi often wears rubies because of this.